Today we'll talk about Yellowstone 1883 Season 1 Episode 4 release date and 1883 Release Schedule.
Hello everybody!
This week has been a sad one for the Yellowstone fans, as we had to say goodbye to the Season 4 of the series, meaning that we will wait yet another year for the new season to come out.
Thankfully, the creator of the series, Taylor Sheridan, knows how much we love and appreciate Yellowstone.
Last year, he decided to come up with two spin-off series that will expand the Yellowstone universe and will provide us with almost a year-long Yellowstone experience, which is just amazing.
One of those series will be 6666, which will probably premiere within the next month, now that Yellowstone Season 4 is wrapped up.
The other one, 1883, on the other hand, has already premiered a couple of weeks ago, and immediately stole the fans' hearts.
1883 is more like a prequel than a spin-off, as it follows the early Duttons before they even came to Montana.
---
Yellowstone 1883 Season 1 Episode 4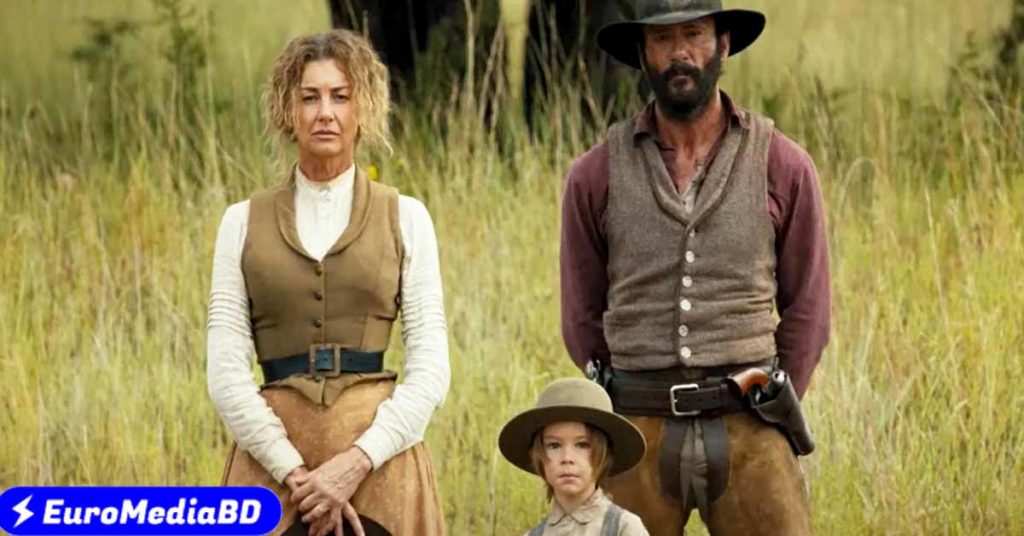 The series is focusing on one of the most troubled periods of U.S. history, as post-civil-war America is not exactly a haven. 
Instead, people are living in a true state of nature without any laws dictating them what to do. Naturally, one's protection depends highly on his cunning and survival abilities. 
Since the Duttons are on a journey toward Montana with a group of German migrants who are clueless about the challenges of American nature, they are not exactly having a good time.
Instead, they are constantly in a fight against not only nature but also both internal and external threats that are not hesitating to kill if they feel like it.
So far, only three episodes of the series have been released. And yet, the show already has a 9.1 score on IMDb, which is highly impressive.
Now that the Yellowstone audience is also obsessed with 1883, it is only normal for them to be curious when their favorite show does not air on its regular schedule.
Normally, 1883 is sharing a similar slot with Yellowstone, as both are being released on Sunday night.  However, this week, 1883 did not release its 
4th episode, making us wonder what had happened to the show and when will the new episode be aired.
On Jan.2, 2022, Yellowstone released its Season 4 final, which was a big deal since the show is known for breaking rating records when it comes to its season premieres and finals.
Therefore, the showrunners decided to push 1883 a week further, so the audience's attention would focus on Yellowstone while 1883 is receiving the attention it deserves as well.
---
Where Can I Watch Yellowstone 1883?
In other words, 1883 Season 1 Episode 4 will be released on January 9, 2022. The audience can watch the episode  on Paramount+ and Paramount Network. 
Other channels including Cox, WoW, Verizon Fios, AT&T U-verse, Comcast Xfinity, Spectrum/Charter, Optimum/Altice, DIRECTV, and Dish can also  be utilized in accessing Paramount Network. 
Online streaming services such as Philo, Fubo TV,  and Sling are also good options for watching the series.
---
Yellowstone Spinoff 1883 Cast
In the episode, we expect our beloved  cast to be all present, meaning that we will watch
Sam Elliott as Shea Brennan
Tim McGraw  as James Dutton
Isabel May as Elsa Dutton
Faith Hill as Margaret Dutton
LaMonica Garrett  as Thomas
Audie Rick as John Dutton Sr
Eric Nelsen as Ennis
James Landry Hébert as Wade
Since we got extremely used to watching all these names in their particular characters, missing on them even for a week can be unbearable at times.
In the previous episodes, we watched James Dutton convincing Shea to go to the west rather than taking the ferry in the east to get across the river.
Of course, this means the crew will have to travel during the winter as well, which is a really scary concept to even think about.
Even now the group is having arguments about the sharing of the food as they have no idea how to use their find effectively so that it can last for weeks.
When winter comes, the situation will get even worse since finding food will almost be impossible. We feel like in Episode 4, we will take a glimpse into what will happen next in the journey as the weather gets cold.
There will also be some external threats, probably bandits, who will attack the group when James and his family were yet to catch up with the rest of the crew.
This will probably make Shea angry with James since he tried to convince him otherwise, knowing the dangers of the west.
We also expect to watch some more intra-group fights, especially between the Germans and Shea, as they start to question Shea's authority and are extremely delusional when it comes to surviving the wild wild west.
So much work went into bringing #1883TV to life. Go behind the scenes with "The Road West," a new special streaming now on @ParamountPlus. #ParamountPlus pic.twitter.com/QlOHDzvzWF

— 1883 Official (@1883Official) January 2, 2022
Another topic that is taking the audiences' attention in 1883 is the newly flourishing romance between Elsa and Ennis.
We  expect the two's relationship to be utilized as an opportunity to learn about the life of the Duttons  back in Tennessee, as Elsa will probably mention her life before this journey.
Even though we have an idea about the family and their background, we want to know them better and understand why they felt like starting over was a must for them.
At the beginning of the season, Elsa said "we were not poor, we were not hopeless, but we had a dream." Now, we want to know what triggered that dream and what is that dream exactly.
We feel like Episode 4 will be the one that we will get into the deeper secrets of the family.
---
FAQs-
Frequently asked question regarding to the Yellowstone 1883 Season 1 Episode 4.
Where Can I Stream Yellowstone Season 4?
On Paramount+, you can watch 1883 in HD. This is an exclusive original series, with the subscription costing $4.99 a month in the United States with "limited" advertisements. If you want it to be ad-free, the price will go up to $9.99.
Where Can I Watch 1883 For Free?
Who Plays Lloyd On Yellowstone?
Forrie J. Smith who Plays Lloyd On Yellowstone.
When Is Episode 4 Of 1883 Going To Air?
Episode 4 Of 1883 Going To Air on Sunday, January 9 on Paramount+
Should You Watch 1883 Before Yellowstone?
If you fall into this category, watching 'Yellowstone' is not necessary in order to enjoy '1883'.
Where Can I Stream Yellowstone?
When Will Season 5 Of Yellowstone Start?
---
Conclusion – Yellowstone 1883 Season 1 Episode 4
So Guys here we just discussed about Yellowstone 1883 Season 1 Episode 4 and 1883 Release Schedule.
What do you think about 1883? 
Are you excited about Episode 4? 
Do you agree with our expectations?
Do you think the show has the potential to replace Yellowstone?
Let us know what you think in the comments below.
DISCLAIMER: Euromediabd.com didn't provide any movies/songs download source or Pirated Content here, the post you see under Movies Download is just news of leaked content, you can check thoroughly before punishing us.